Share­holders' letter
Healthy financial results – ready for tomorrow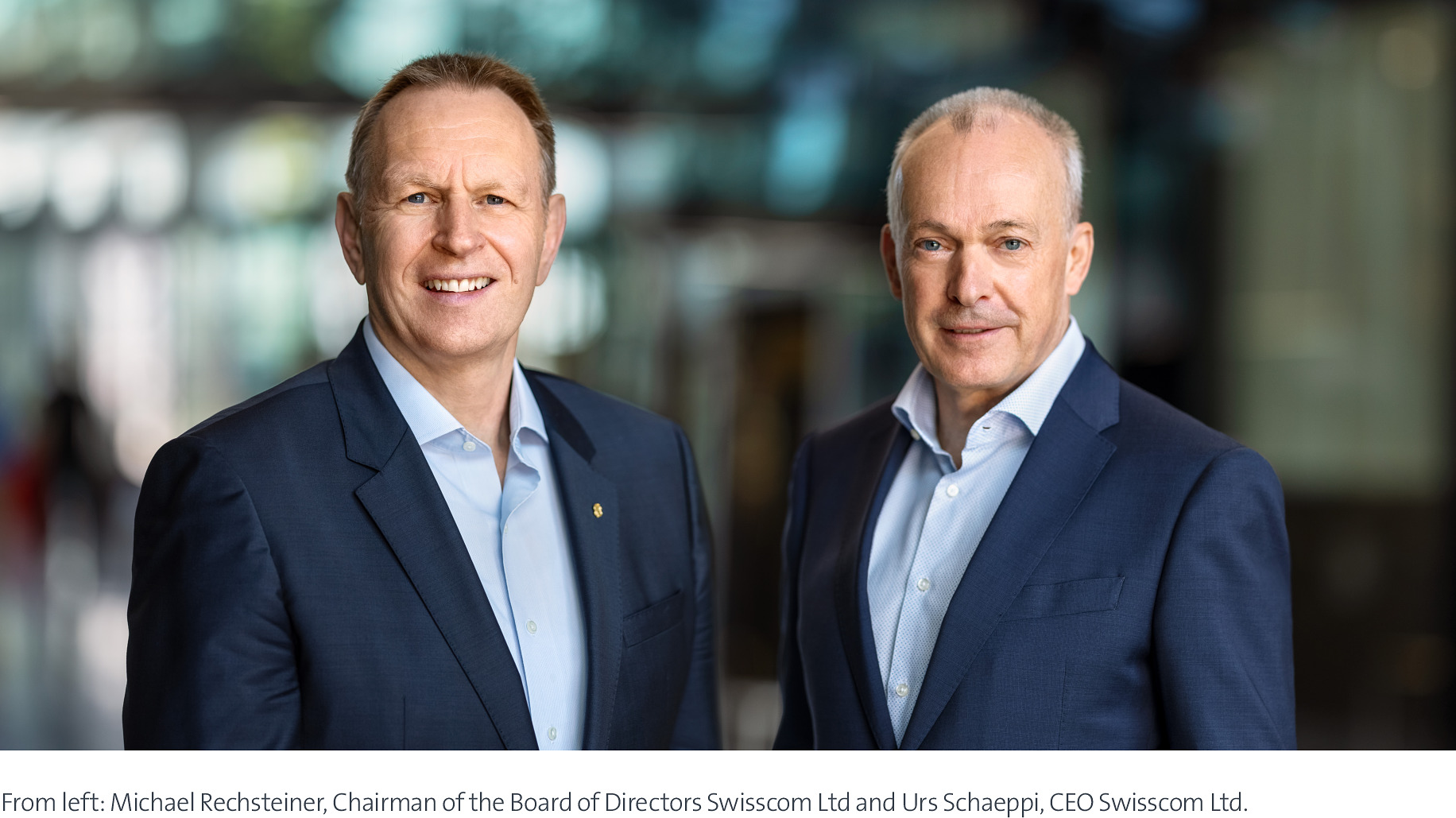 Dear Share­holders
The future needs digitisation. Our ambition is to make the digital future possible for our cus­tomers in Switzer­land and Italy. Some 19,000 Swisscom and Fastweb employees have been committed to this objective for years. By investing around CHF 2.3 bil­lion annually in network expansion, we are creating the conditions for successful digitisation. We develop advanced products and services for and with our cus­tomers – ensuring that our cus­tomers are also ready for what tomorrow may bring. We also seize the pos­si­bil­i­ties of digitisation to make climate-friendly changes: for example, we are seeking to become climate-neutral along the entire value chain in Switzer­land by 2025. As a market and tech­nol­ogy leader, we are spurred on by curiosity to anticipate future de­vel­op­ments at an early stage: for example, we work closely with universities, invest in innovative start-ups and host an annual StartUp Challenge, with the theme for 2021 being cyber security.
Solid finances – the foundation for lasting success
Our markets remain saturated, and promotional and price pressure is high. Swisscom successfully held its own in this en­vi­ron­ment in 2021: with net revenue of CHF 11,183 million (+0.7%) and operating income before de­pre­ci­a­tion and amor­ti­sa­tion (EBITDA) of CHF 4,478 million (+2.2%), the results were above the previous year. We achieved these good results thanks to networks that once again received top ratings in the year under review, our multi-award-winning customer service, and innovative products and services. In addition to these outward-facing aspects, we are consistently improving our own internal efficiency by expanding process automation, strengthening our online channels and simplifying our IT and networks. These mea­sures enabled us to reduce our cost base by around CHF 120 million in 2021, further boosting our com­pet­i­tiveness.
Fastweb records more cus­tomers, revenue and EBITDA
Fastweb made an im­por­tant contribution to Swisscom's success again in 2021. With a market share of around 16% among residential cus­tomers, 34% among businesses and 46% in the public sector, Fastweb is the clear number two in Europe's fourth-largest broad­band market. It grew its customer base in all segments, with rises of 0.1% for broad­band cus­tomers and 26.1% in mobile com­mu­ni­ca­tions. As a result, Fastweb boosted its revenue by 3.8% to EUR 2,392 million and its operating income before de­pre­ci­a­tion and amor­ti­sa­tion (EBITDA) by 5.4% to EUR 826 million. This was a tremendous result!
Much invested, much gained
At the end of 2021, Swisscom reached the expansion target that it promised six years ago: it is delivering speeds of at least 80 Mbps to 90% of all homes and offices in every Swiss municipality. To achieve this, Swisscom invested around CHF 1.6 bil­lion per year in the expansion and main­te­nance of its IT and network in­fra­struc­ture in Switzer­land. This forward-thinking approach to in­fra­struc­ture expansion is con­tin­ued in its Net­work Strategy 2025: Swisscom intends to double its fibre-to-the-home (FTTH) coverage and provide 50–60% of homes and offices with bandwidths of 10 Gbps by 2025.
Swisscom again came top in all Switzer­land's mobile network tests in 2021, and achieved the best rating ever awarded in Switzer­land in the annual test conducted by the trade magazine 'connect'. Today, the entire Swiss population has 4G coverage. A basic version of 5G (5G tech­nol­ogy on 4G antennas) already covers 99% of the population. The full benefits of 5G (5G tech­nol­ogy on 5G antennas) are so far only available in 888 locations. In order to create new capacity for modern 5G tech­nol­ogy, Swisscom de­com­mis­sioned the obsolete 2G/GSM mobile generation during 2021.
Best network – but more difficult expansion
Switzer­land's mobile and fibre-optic network is one of the best in the world. However, we note with concern the increasing regulation, which threatens to slow down the urgently needed network expansion. On top of the already ten times stricter installation limit values in Switzer­land, we face an extremely strict assessment of adaptive 5G antennas and high ad­min­is­tra­tive hurdles for minor operational or tech­no­log­i­cal adjustments. If data traffic increases by around 20% annually but capacity is only expanded by 5%, the Swiss mobile com­mu­ni­ca­tions network is heading for an unnecessary crunch.
In its ruling of 30 September 2021, the Federal Ad­min­is­tra­tive Court confirmed COMCO's pre­cau­tion­ary mea­sures, meaning that Swisscom may not continue to expand its network in­fra­struc­ture in accordance with the standard in­ter­na­tional point-to-multipoint (P2MP) FTTH standard. Swisscom is in talks with the COMCO to reach a solution in the interest of our cus­tomers as quickly as possible. By engaging in close dialogue with the au­thor­i­ties and politicians, Swisscom is striving to ensure that the expansion of our fibre-optic and mobile com­mu­ni­ca­tions in­fra­struc­ture is neither made more expensive nor delayed, because it is only with the highest-performing in­fra­struc­ture that Switzer­land will be able to seize the op­por­tu­ni­ties that the digital future will bring.
Target of net zero by 2025 – one small step for the climate, but one ambitious leap for Swisscom
After being named the world's most sustainable telecom­mu­ni­ca­tions company in 2020, Swisscom is embarking on the next step: to reduce its CO2 emissions in Switzer­land along the entire value chain to net zero by 2025. In order to be completely climate-neutral four years from now, Swisscom aims to reduce CO2 emissions from its op­er­a­tions and supply chains to a total of 235,000 tonnes, which is in line with a reduction path to well below 1.5°C. Mea­sures to achieve this include switching to electric models for its 2,400-strong vehicle fleet: Swisscom brought the first 80 electric vehicles into service in 2021 and intends to electrify the entire fleet by 2030.
We are also promoting innovations that drive climate-friendly changes via the Swisscom IoT Climate Award and direct in­vest­ments in start-ups. Examples include our investment in ecoRobotix, whose weeding robots cut CO2 emissions and herbicide use by 90% through solar cells and 5G.
Ready for our residential cus­tomers
The residential cus­tomers market in Switzer­land is saturated and strongly promotion-driven. Despite that, Swisscom con­tin­u­ously developed its attractive inOne bundled offering during the year under review. Home networking for controlling lighting, music or alarm systems also grew strongly.
Ready for the new TV experience: Swisscom launched 'blue Play', an extensive new media library offering series, feature films and children's programming, in 2021. It also introduced a technical innovation for sports fans: when using the Replay mode, the key moments – such as goalmouth action or yellow and red cards – are visually indicated so that viewers can always move to the most exciting passages of play. Swisscom is also committed to the Swiss music scene, which it will be bringing live to blue TV users from 2022, 365 days a year.
Just as im­por­tant as good-quality products is quality of service – be that online or in store. The trade magazine 'connect' awarded the My Swisscom app the highest score of any service app from a tele­com­mu­ni­ca­tions company in Europe. The quality of personal service in our shops also secured the best score ever achieved in Switzer­land: in a nutshell, 'we are ready'!
We are sup­port­ing Switzer­land on its journey into a digital future with ap­pro­pri­ate media training for individuals, teachers, school pupils and parents. A total of 72,000 people took part in these training sessions in 2021. Swisscom also campaigned against hate speech and online bullying with the #mutethehate campaign.
IT: the lifeline for com­pa­nies
IT in­fra­struc­ture is increasingly an indispensable lifeline for com­pa­nies. Unsurprisingly, the market for IT services recovered last year. Especially those SMEs that only really recog­nised the im­por­tance of digitisation during the pandemic have some catching up to do. That is why Swisscom launched a digital POS system in 2021 that allows SME managers to manage all major processes, from ordering and inventory management to invoicing, from their tablets without any specific IT knowl­edge.
To enable SMEs to provide their services securely, Swisscom offers IT security assessments, cloud solutions that apply the highest security standards and e-learning for employees.
In 2021, Swisscom's partnership with Rhomberg Sersa, an SME in the field of track con­struc­tion, provided a powerful illustration of what digitisation can achieve: the combination of the Internet of Things, cloud solutions and 5G have not just improved Rhomberg Sersa's com­pet­i­tiveness and the safety of its employees on sites, but have also helped cut its CO2 emissions. Little surprise, then, that this ground-breaking project was selected from 4,400 ap­pli­ca­tions as the winner of Microsoft's Global IoT Award.
Share­holder return and outlook
Swisscom's share price rose 7.9% to CHF 514.60 in 2021. Swisscom expects net revenue of CHF 11.1 to 11.2 bil­lion, EBITDA of around CHF 4.4 bil­lion and capital ex­pen­di­ture of around CHF 2.3 bil­lion (around CHF 1.7 bil­lion of which will be in Switzer­land) for 2022. Subject to achieving its targets, Swisscom will propose an unchanged dividend of CHF 22 per share for the 2022 financial year at the 2023 Annual General Meeting.
Many thanks
'Being ready for tomorrow' is both an op­por­tu­nity and a challenge for all of us. Our employees prove every day that they are ready for tomorrow and want to support our cus­tomers as they move into this digital future. We are very thankful to them for this.
We would also like to thank you, our valued shareholders, for your trust and confidence. We hope that you, too, are ready and eager to join us on our journey to a successful tomorrow.
Kind regards

Michael Rechsteiner
Chairman of the Board of Directors
Swisscom Ltd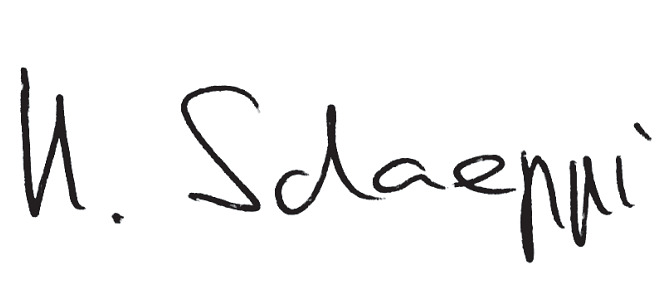 Urs Schaeppi
CEO Swisscom Ltd